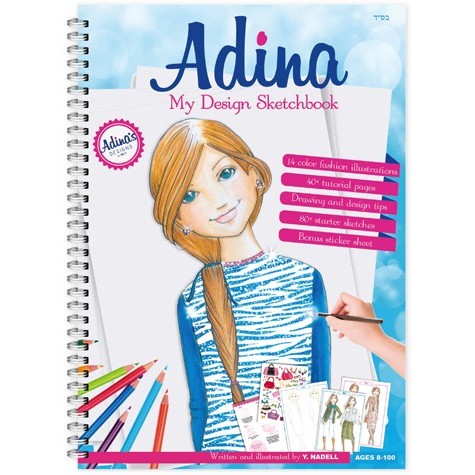 Writing a review of a sketchbook might seem a bit unusual. However, this innovative book should be found in the home of every family seeking to instill a sense of dignified personal style in their children.
The brainchild of Yocheved Nadell, Adina: My Design Sketchbook is meant to inspire girls of all ages to see the beauty in modest dress. "Modesty needs a public relations campaign," Nadell told Israel365. "My goal was to present something to empower girls to be proud of the way they look without compromising on dignity and self-respect."
The book presents sketches of seven attractive yet modestly dressed "models". There are sixty-plus stickers, over eighty starter sketches, more than forty tutorial pages with easy-to-follow instructions, and fourteen color illustrations to inspire the budding fashion designer to create beautiful and original styles.
"I wanted to offer girls a fun and creative way to learn that dressing modestly can still be cool," explained Nadell. "Today's media, music, toys and peers bombard us with negative messages about our bodies. Offering a way for girls to express their individuality in a refined way is a new concept to many."
The book is so well thought-out that there is something for everyone seeking to learn new concepts. "The book is geared towards ages 8-100," Nadell said with a smile. "To younger girls, the stickers make it a glorified coloring book. Teens enjoy the tutorials which teach coloring techniques and encourage attention to detail. For example, we point out that denim jackets often have double rows of stitches, so draw those in your picture."

Born in South Africa, Nadell was raised in Southern California. She studied fashion design and illustration at Otis Parsons Art Institute in Los Angeles and worked in the Los Angeles garment industry for several years. "I grew up in a traditional Jewish home that was not quite Orthodox," explained Nadell. "I always had an artistic streak. In fact, I've been drawing since I was a tween."
Now living in Israel with her husband and children, Nadell was encouraged by her rabbi to develop something special to help today's young women feel good about their personal style. "Make it cool and trendy, my rabbi advised me. He told me to talk to teenage girls and see what they like and what they relate to. He was hoping this book would help remove the negative stigma associated with modest dress."
Taking that good advice, thousands of copies of Adina have already been sold all over the world. "Many non-Jews get excited about modest dress. They don't have negative associations and preconceived notions. They appreciate that they can be stylish, beautiful, cute and respectful of their God-given body."
The Hebrew name Adina means delicate and refined. "That's the underlying message here," continued Nadell. "The book is like a blank canvas meant to fill a void in the way we instill ideas of modesty in our girls."
Get your own copy here and start designing today!