Niggunim are wordless compositions of lively uplifting tunes which were propagated by the Hasidic communities in Europe in 18th-20th centuries. They are heavily emotional, stir large crowds, and in the past were used to create an atmosphere of intense spiritual connection and communion at gatherings, meals and a unique custom known as the Rebbe's Tisch (an event that would occur after the lead Rabbi of a Hasidic sect would start the Sabbath meal with his students and followers about him).  Instruments or the mere tapping of hands on a table can become a participant's accompaniment to the song.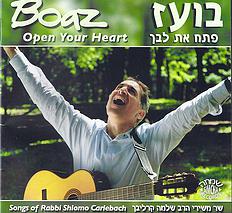 The word niggun is a Hebrew term for the word melody.  It contains a meaning that extends beyond its mere definition.  Rabbi Moshe Ben Nachman, also known as the Ramban, one of the leading Talmudic and Kabbalistic scholars in history, believed that music contains the power to uplift mankind from the realm of the physical to that of the spiritual.
This realm of the spiritual is sincerely conveyed in the Cantorial stylings of Boaz Davidoff. The musical journey which led him to create the Open Your Heart CD, was also a religious transformation. Boaz began his musical career by gathering eclectic sounds and touring festivals around the world but in chasing the soul of sound, he was steered towards a higher path and found faith in his heart. Pursuing soulful music, he enrolled in the Tel Aviv Cantorial Institute where he studied in earnest for two years.  His love for the visceral passion and spirituality often found in niggunim only intensified his belief that he had found his calling.
In Open Your Heart  Boaz Davidoff shares some rare niggunim of Rabbi Shlomo Charlebach, expressed in a fresh and revitalizing way.  He combines his passion for the Cantorial with his background in opera, and adds flavors of folk and rock styles. The talent shown through the richness of voice and musical accompaniment effectively draws the listener into an elevating experience that will make them want to hear the songs over and over again.
The popularity of a Hassidic niggun as a powerful form of spiritual expression has allowed it to morph into a separate genre of music.  Though the ubiquity of the niggun in Jewish musical tradition may be newer, the profundity and spiritual essence of music and song are elements of ancient Jewish tadition.  The founder of the Lubavitcher movement, Rabbi Schneur Zalman of Liady, even went so far as to say that "There are gates of heaven that cannot be opened except by melody and song."
In addition to the views expressed by the Ramban and the Lubavitcher Rebbe, the Arizal, or Rabbi Yitzchak Luria, many Jews believe that singing songs is so important for the connection of mankind to the spirit realm on Sabbath, that it is actually a mitzvah, or commandment to sing on this day.  Rabbi Luria's teachings assert that the stirring and elevation of the soul can be visibly seen when a person sings out loud while concentrating on the words being spoken. The Cantor's responsibility on the Sabbath is therefore a great one, as he leads the congregation in reaching that state of spiritual fullness.

Boaz, a cantor, composer, performer, and musician now lives in Israel.  His background includes obtaining a graduate degree in musicology and performing renaissance, baroque, and opera style music.  Changes in his life transformed his music, and he began to study passionately under the well-known cantor and maestro, Naphtali Herstik, while attending the Tel Aviv Cantorial Institute.  This led to additional studies alongside Cantor Arye Subar when Boaz had eventually made his way to Montreal.  Once there, he spent six joyful years as a renowned cantor.  Since then he has been actively involved in producing musical concerts, CD's, and performances around the world.  His style has developed to include classical cantorial music combined with rock, Balkan, and world music.